Through our industry relationships we can provide preferred pricing and one stop shopping for everything from therapeutic devices, proprietary software, cloud solutions, and imaging.
CBCT
Cone-beam computed tomography (CBCT) not only provides unparalleled view of the airway, directly benefiting your sleep practice, but can also assist in orthodontal, endodontal, and periodontal applications. CBCT imaging can be used to get highly accurate measurements, improve localization of impacted teeth, identify and quantify asymmetry, assess periodontal structures, identify endodontic problems, plan placement sites for temporary skeletal anchorage devices, and even view condylar positions and temporomandibular joint (TMJ) structures.
IOS Scanner
This scanner is up and running right out of the box with the intuitive case management software, your staff can learn the system within minutes. The scanner requires no warm-up time, which means less waiting time for patients and less time spent in the chair. The open architecture and built-in lab communication mean you can quickly and easily send files to your lab of choice.
Telemedicine Portal Enrollment
Level 1 includes enrollment and trainging on our preferred Telemedicine Portal. This leading service provides you with board certified sleep physicians in every state, who can prescribe and interpret home sleep tests, consult your patients on treatment options and prescribe Oral Appliance Therapy. Training & coaching on all of these systems is included for 1 year.
Air Quality Guard is a clean air system designed for the uniuqe challenges of dental practices. Unlike other systems, AQG is built on the principle of directional airflow, which captures nearly 100% of contaminants before they can circulate in the operatory or office. A negative pressure airflow cycle is created in which contaminated air is captured at the source, passed through a 3 level filter, then returned to the office. The continunous cycle replaces the air in the office 5-10 more times per hour, ensuring occupants are only breathing clean air and there are no dead zones where aerosols can accumulate.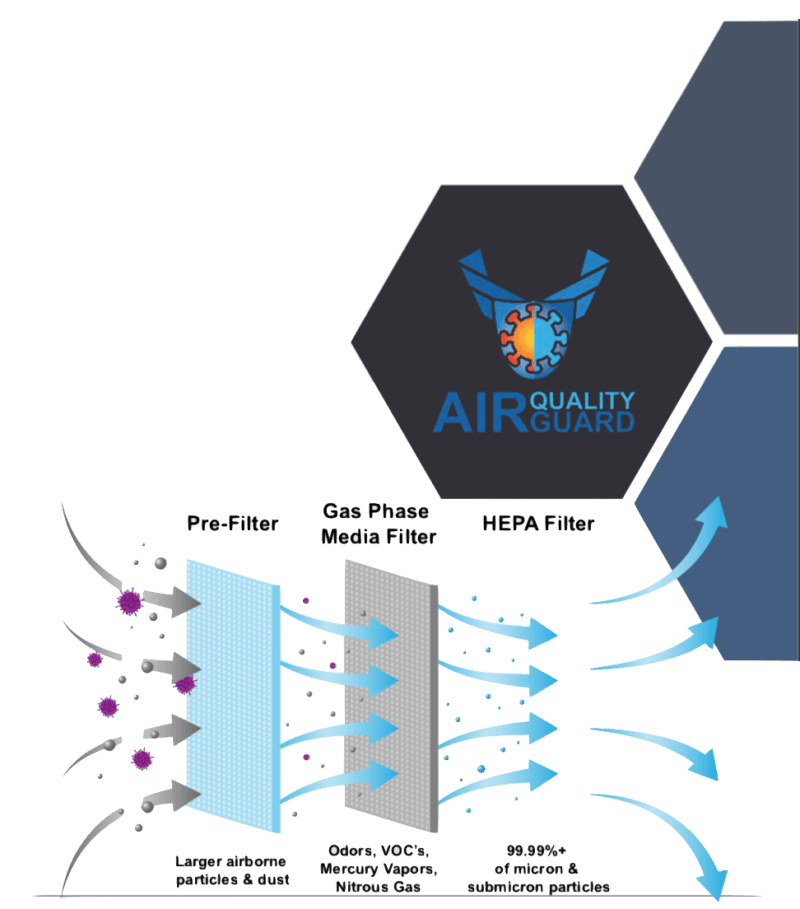 Schedule a free consultation today:
Copyright © 2023 Nexus Dental Systems - A Turn-key Solution for Obstructive Sleep Apnea.