Whole Practice On-site training is the fastest way to get every member of your team up to speed on Dental Sleep Medicine, Airway Management, Dentomandibular Sensorimotor Dysfunction (DMSD) and TMD/Headache.
Our whole-team approach ensures that each member of your team understands how providing medical treatment benefits your patients and their personal part to play in delivering treatment. The Whole Team approach is key to ensuring consistent message delivery and comprehensive screening.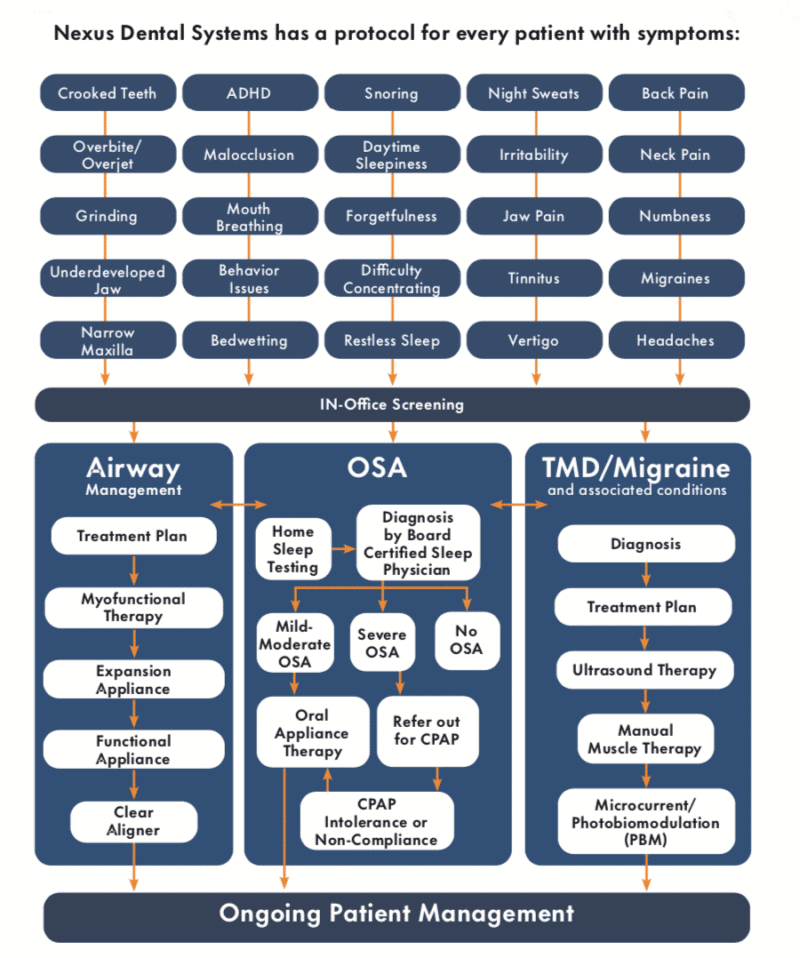 6 months of Bi-Weekly Coaching
Nexus coaches bring decades of experience to your practice. Bi-weekly coaching sessions with dentist and team help your practice overcome any issues that arise; team motivation, protocol, technology, device selection, case presentation, billing and more.
2 days On-Site Training
Our coaches embed with your team over a 2 day sessions to provide hands-on instruction, coaching and feedback. These sessions allow us to do a deep dive on your practice to help formulate a customized protocol and provide your team with one-on-one instruction. On-site instruction allows our coaches to get a first-hand view of patient interactions and
provide constructive feedback to improve screening, consultations and finance discussions.
Custom Sleep Protocols
During on-site training and through ongoing coaching, Nexus works with your team to develop a customized Sleep Wellness Protocol that includes each technology, system and partner specific to your practice. Custom protocols for each member of your team, along with weekly coaching ensures you are following best practices for patient care, physician collaboration and reimbursement.
Patient Tracking Worksheet
Developed and refined during decades of experience in dental practices providing sleep, this tracking sheet will help ensure your office is on top of every patient.
Copyright © 2023 Nexus Dental Systems - A Turn-key Solution for Obstructive Sleep Apnea.